3. Remember that God joined you together in marriage.
"For this reason a man shall leave his father and mother and be joined to his wife. … So then, they are no longer two but one flesh. Therefore what God has joined together, let not man separate" (Matthew 19:5, 6).
Answer:   Has love nearly disappeared from your home? While the devil wants to break apart your marriage by tempting you to give up, don't forget that God Himself joined you together in marriage, and He desires that you stay together and be happy. He will bring happiness and love into your lives if you will obey His divine commandments. "With God all things are possible" (Matthew 19:26). Don't despair. God's Spirit can change your heart and your spouse's heart if you will ask and let Him.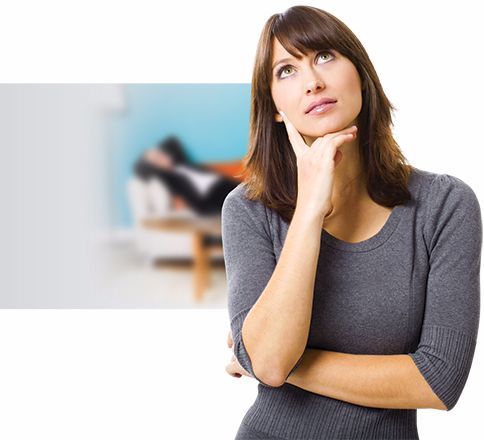 The wrong kind of thinking can destroy your marriage.
4. Guard your thoughts.
"As he thinks in his heart, so is he" (Proverbs 23:7).
"You shall not covet your neighbor's wife" (Exodus 20:17).
"Keep your heart with all diligence, for out of it spring the issues of life" (Proverbs 4:23).
"Whatever things are true … noble … just … pure … lovely … of good report … meditate on these things" (Philippians 4:8).
Answer:   The wrong kind of thinking can profoundly harm your marriage. The devil will tempt you with thoughts like, "Our marriage was a mistake," "She doesn't understand me," "I can't take much more of this," "We can always divorce if necessary," "I'll go home to mother," or, "He smiled at that woman." This kind of thinking is dangerous because your thoughts ultimately govern your actions. Avoid seeing, saying, reading, or hearing anything that—or associating with anyone who—suggests being unfaithful. Thoughts uncontrolled are like an automobile left in neutral on a steep hill; the result could be disaster.
5. Never go to bed angry with one another.
"Do not let the sun go down on your wrath" (Ephesians 4:26).
"Confess your trespasses to one another" (James 5:16).
"Forgetting those things which are behind" (Philippians 3:13).
"Be kind to one another, tenderhearted, forgiving one another, even as God in Christ forgave you" (Ephesians 4:32).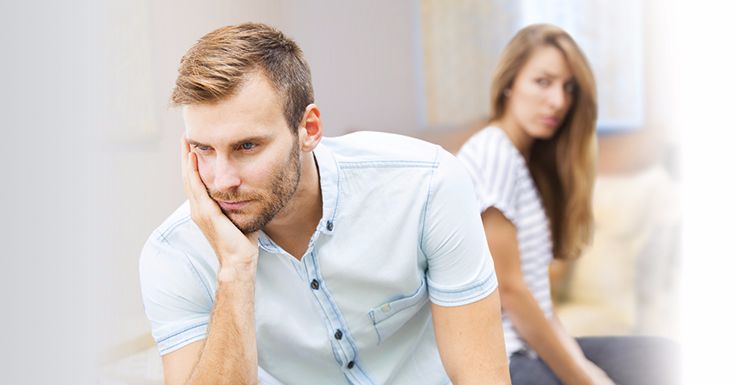 Answer:   To remain angry over hurts and grievances—big or little—can be dangerous. Unless addressed in a timely manner, even little problems can become set in your mind as convictions and can adversely affect your outlook on life. This is why God said to let your anger cool before going to bed. Be big enough to forgive and to say, "I'm sorry." After all, no one is perfect, and you are both on the same team, so be gracious enough to admit a mistake when you make it. Besides, making up is a very pleasant experience, with unusual powers to draw marriage partners closer together. God suggests it! It works!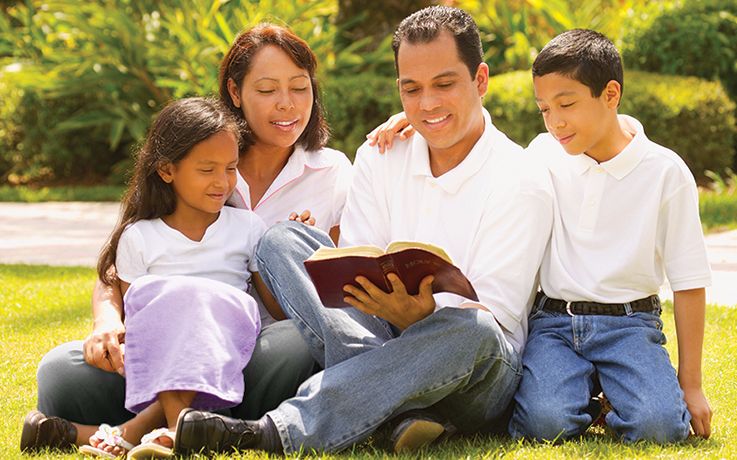 With Christ in your hearts and home, marriage will be successful.
6. Keep Christ in the center of your home.
"Unless the Lord builds the house, they labor in vain who build it" (Psalm 127:1).
"In all your ways acknowledge Him, and He shall direct your paths" (Proverbs 3:6).
"And the peace of God, which surpasses all understanding, will guard your hearts and minds through Christ Jesus" (Philippians 4:7).
Answer:   This really is the greatest principle, because it's the one that enables all the others. The vital ingredient of happiness in the home is not in diplomacy, strategy, or our effort to overcome problems, but rather in a union with Christ. Hearts filled with Christ's love will not be far apart for long. With Christ in the home, a marriage has a greater chance at being successful. Jesus can wash away bitterness and disappointment and restore love and happiness.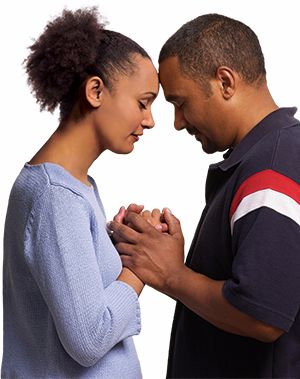 7. Pray together.
"Watch and pray, lest you enter into temptation. The spirit indeed is willing, but the flesh is weak" (Matthew 26:41).
"Pray for one another" (James 5:16).
"If any of you lacks wisdom, let him ask of God, who gives to all liberally" (James 1:5).
Answer:   Pray with one another! This is a wonderful activity that will help your marriage succeed beyond your wildest dreams. Kneel before God and ask Him for true love for one another, for forgiveness, for strength, for wisdom—for the solution to problems. God will answer. You won't be automatically cured of every fault, but God will have greater access to change your heart and actions.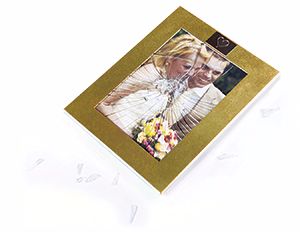 8. Agree that divorce is not the answer.
"What God has joined together, let not man separate" (Matthew 19:6).
"Whoever divorces his wife, except for sexual immorality, and marries another, commits adultery; and whoever marries her who is divorced commits adultery" (Matthew 19:9).
"The woman who has a husband is bound by the law to her husband as long as he lives" (Romans 7:2).
Answer:   The Bible says that the ties of marriage are meant to be unbreakable. Divorce is allowed only in cases of adultery. But even then, it is not demanded. Forgiveness is always better than divorce, even in the case of unfaithfulness.
When God ordained the first marriage in Eden, He designed it for life. Thus, marriage vows are among the most solemn and binding for a person to take on. But remember, God meant for marriage to elevate our lives and meet our needs in every way. Harboring thoughts of divorce will tend to destroy your marriage. Divorce is always destructive and is almost never a solution to the problem; instead, it usually creates greater problems—financial troubles, grieving children, etc.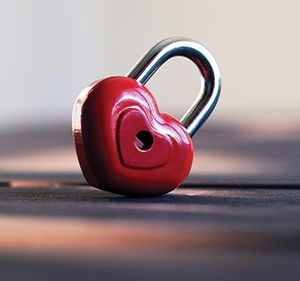 9. Keep the family circle closed tightly.
"You shall not commit adultery" (Exodus 20:14).
"The heart of her husband safely trusts her. … She does him good and not evil all the days of her life" (Proverbs 31:11, 12).
"The Lord has been witness between you and the wife of your youth, with whom you have dealt treacherously" (Malachi 2:14).
"Keep you from the evil woman. … Do not lust after her beauty in your heart, nor let her allure you with her eyelids. Can a man take fire to his bosom, and his clothes not be burned? … So is he who goes in to his neighbor's wife; whoever touches her shall not be innocent" (Proverbs 6:24, 25, 27, 29).
Answer:   Private family matters should never be shared with others outside your home—not even parents. A person outside the marriage to sympathize with or listen to complaints can be used by the devil to estrange the hearts of a husband and wife. Solve your private home problems privately. No one else, except a minister or a marriage counselor, should be involved. Always be truthful with each other, and never keep secrets. Avoid telling jokes at the expense of your spouse's feelings, and vigorously defend each other. Adultery will always hurt you and everyone else in your family. God, who knows our mind, body, and feelings, said, "You shall not commit adultery" (Exodus 20:14). If flirtations have already begun, break them off immediately—or shadows could settle over your life that cannot be easily lifted.
×Note: To download, click the button. If it doesn't work, right click, then click "Save Link As." Download only works if media is stored within this site.